Attendance and Punctuality
Pupils should aim for a consistently high attendance rate; the target is a minimum of 97% for all pupils over the course of the academic year.
The School must be informed of any unavoidable absence before 9:00am on the day of absence.
If your child is going to be absent, please contact the school office and advise the reason for absence via one of the following:
Telephone the office on 02076529560, select option 1 and leave a message.
Medical or dental appointments should not be made during school hours, including enrichment times, unless this is absolutely unavoidable. Where this is not possible, the details of the appointment including any letters must be brought into the School Office or emailed to hatchamprimary@habstrustsouth.org.uk prior to the appointment, so that the register can be marked accordingly.
Any pupil who feels ill during school hours should report to their class teacher, who will report to Reception staff. Parents or carers will be contacted if necessary.
If a child's attendance falls below 95% we will require medical proof to authorise any periods of absence, for example, a medical appointment card, text message, a doctor's note, medication prescribed by a doctor, a copy of a prescription, a print screen of medical notes, as well as letters concerning hospital appointments or any other relevant evidence.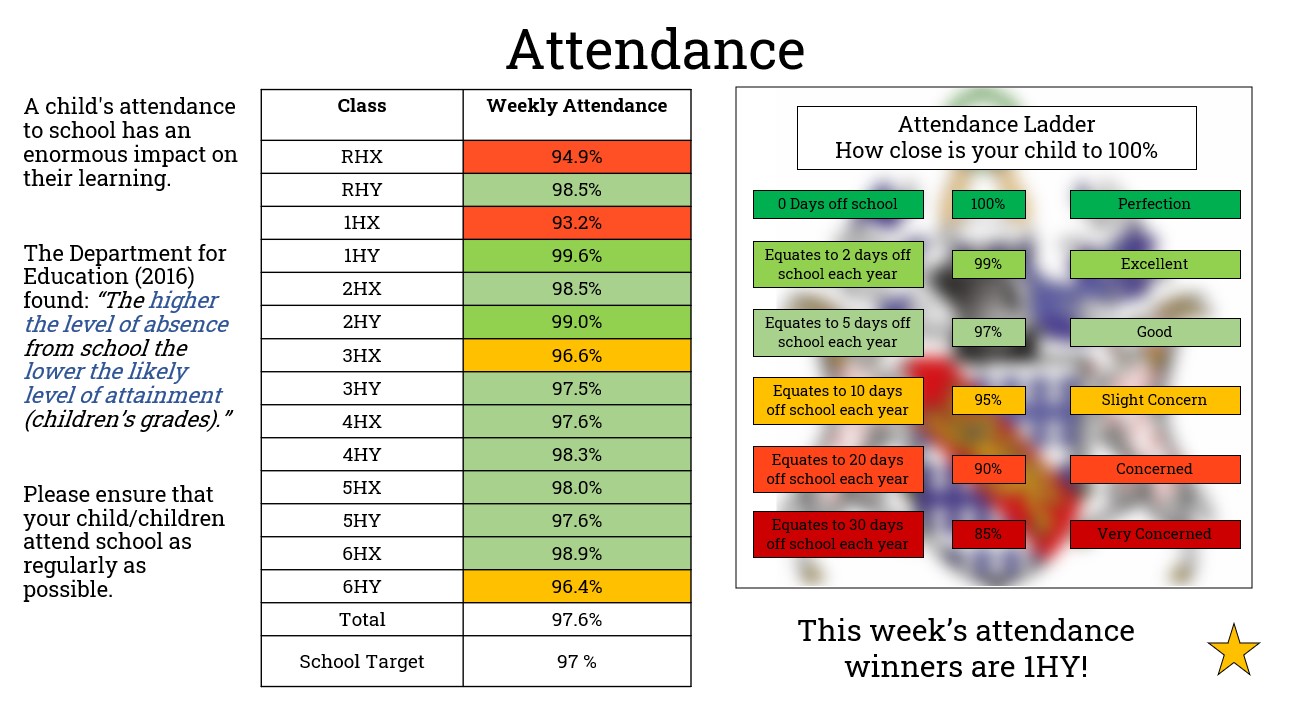 Punctuality
The school gates open at 8:35am. Children are expected to arrive at school between 8:40am and 8:45am, the gates will close promptly at 8:50am. All children should be in their classrooms ready to learn at 8:45am. Children arriving after 8:50am are considered late. Children who arrive after 9:30am are recorded in our register as an unauthorised absence for the morning session.
Religious Observations
The school acknowledge and welcome the multi-faith nature of our community and recognise that some families' important religious festivals may fall outside school holidays. Children can be absent on a day exclusively set aside for religious observance by the religious body to which the family belongs.
Leave of Absence
Holidays/absence requests are not allowed during term-time, as this is disruptive to both the pupil and to the group, especially where preparation for assessments is concerned.
The Government has made it clear that schools should not authorise any leave of absence during term time unless there are very exceptional circumstances.
The Head teacher has the discretion to authorise a short period of absence which is due to exceptional circumstances. While decisions will be made on a case by case basis, requests will normally be refused. Any long period of unauthorised absence can result in the pupil being taken off roll in partnership with the school EWO. The family will then have to reapply for a place on their return. We reserve the right to refer specific unauthorised absences to our Education Welfare Service, who may deem it appropriate to issue a fixed penalty notice.
If a parent/carer wants to request leave of absence for their child, they should seek permission well in advance by completing the absence request form below. Once completed this must be emailed to hatchamprimary@habstrustsouth.org.uk.
Click here to download the Absence Request Form
Attendance and Punctuality Policy
To view our Attendance and Punctuality policy click here.